| | |
| --- | --- |
| | This page is for products that have impressed me. Most of them have to do with video games, but not all of them. If you invest in any of these, you will not be sorry. |
<!! -----------------------text goes here ------------------------------------>
Pine Trees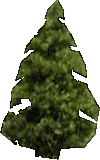 Price: No idea
If you have a decent sized yard, you may be interested in getting it fenced in. Fences can be a pain in the ass. You have to put them in, and make sure they are straight, and paint them every so often. If you have the time and money, I suggest planting a row of low pine trees around the perimeter of your yard (space permitting). once they reach 4 feet or so, you almost never need to worry about them. They just do their own thing. Unlike other trees, they stay green all year. They dont shed leaves for you to race up, and they grow within a nice, tiny ring. They provide shade and a lot of privacy, and a neat row of pine trees looks far better than a board fence in my opinion.
Cons: Saplings can be expensive. Pine trees can attract birds. It can take years for a pine tree to reach a useful size.
Rubermaid Containers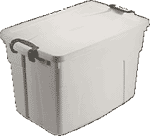 Price: $2 to $20
If you have a ton of shit to organize, you might want to get some rubbermaid bins. You can store pretty much anything in them. Most containers are stackable, and very portable, not to meantion water-proof (well, you can leave them out in the rain). You can drop them from a great height and they will most likely survice the fall. Stay away from off-brands such a Sterilite, as they are usually shitty and crack easily. Thanks to rubbermaid, my closet has 5 neatly stacked containers instead of a big pile a shit inside.
Cons: Can be significantly more expensive than the inferior Sterilite containers.
Sidenote: A couple of years ago the same situation that drove up gas prices was going to force Rubbermade to up the prices of most of their mechandise. Apparently they contain some sort of oil in the plastic, and it's an essential part of what makes them so durable. Well, Wal-Mart was going to stop carrying them in favor of the slightly cheaper but ungodly shitty Sterilite. Wal-Mart has become so big that this would have all but bankrupted the awesome Rubbermaid. I on't know the exact details, but they somehow worked it out, and you can still get Rubbermaid at Wal-Mart. But let this be a warning. Wal-Mart is getting too powerful. I still pick up stuff there from time to time, but I avoid them unless I can't get what I want somewhere else. I recommend doing the same.
Box Fans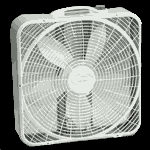 Price: $8.99 to 18.99
In times of summer it often gets way to fucking hot in a house or apartment. An air conditioner costs who knows how much. If you already have an air conditioner, chances are you are too cheap to run the god damned thing when the guests are over. Get a box fan. For ten bucks you can totally cool down a bedroom. For twenty bucks you can cool a large front room. Get four and your whole house is set. I am Do not spend thirty dollars on one of those oscillating 8" pieces of crap. You need the full twenty inches of power. If you are ethnic and stink up the house with your cooking, you can open a window and blow that shit smell the fuck out. Seriously, if you don't have at least two box fans in your house, and you don't have air conditioning, you are probably sweating way too much. One more thing. If you are trying to sleep and some asshole has the tv/stereo too loud, the soothing box fans drone will mask some of that noise.
Cons: Bulky, may be too loud on high setting. Some poorly designed models may tip.
Fountain Drinks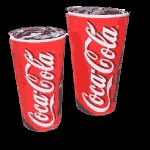 Price: $.69 to $1.39
Yeah, I know, fountain drinks are heavily diluted, carelessly mixed versions of your favorite pop or soda. I used to hate them too. However, for the whole summer Speedway has 22 - 44 ounce fountain drinks for 69 cents plus tax. I usually get the 44 ounce cup, fill it 2/3 with ice, and get Coke. That way you only gety the calories of 20 ounces of pop, and a lot of water. Furthermore, the cups you get are durable enough to stand up in the dishwasher. I am not saying that you should keep the cups for future use. I keep the cups for a day and refill them with tap water. Every source for health knowledge I have ever read has said people should drink 64 ounces of water a day, and lately I have been filling up the 44 ounce cup with water 3 or more times a day. Thats a lot of water. The pop drinkers alternative to pay 1.09 for a 20 oz bottle.
Cons: Inconsistent mix quality, makes you piss a lot. without ice, that's a lot of high fructose corn syrup.
Logitech MX 700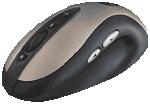 Price: $69.99
I've written about this mouse before. Basically it is the most responsive mouse, wireless or not, powered by 2 Nickel Metal Hydride AA batteries and charged by an included charger base. It also has 8 buttons, instead of the usual 3. there is an MX 900 now, but as far as I can tell, the only difference is it doubles as a bluetooth hub, which means that you don't need to spend the extra twenty bucks it costs.
Cons: A bit pricey, might not feel right for left-handed users, may be a bit heavy for X-treme nerds.
Saitek P880 and p3000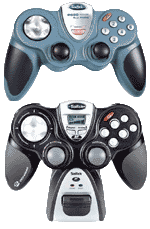 Price: $19.99 and $39.99
These controllers are identical, except one is cordless and comes with 2 quick-change batteries and a charger base/display stand, and the other is a traditional corded gamepad. There is also another version of the corded pad with rumble, but it isn't really worth the extra ten bucks. These pads take cues from the official controllers of the Gamecube, X-box, and PS2. The overall shape is like the Gamecube, the analogue sticks are like the PS2's in placement as well and feel (too loose, not enough resistance), and the button layout is similar to the X-box's, with 6 face buttons, clickable analogues, 2 shoulder buttons (sadly not the analogue triggers of the X-Box, but more like the PS2's in function). An additional button in the middle of the face allows you to switch between using the d-pad and left analogue for primary use, the one not in use is recognized as a pov-hat. I can not emphasize enough how awesome this last feature is. If you play emulators, on some pads you are forced to use the analogue stick because the program won't recognize the d-pad. This is not an issue on this pad. Another good point is the D-pad. While it looks and feels different from every other D-pad I've ever used, it is comfortable, responsive, and I never hit a diagonal on accident, something very common with PC pads. I have used this with MAME (an arcade emulator) and I was impressed. If you plan on playing games that call for analogue control, you may want a different pad, as the sticks are only as good as the PS2s, falling short of the Gamecubes and X-box's.
Cons: No analogue triggers, analogue sticks may be too loose.
Paper Towels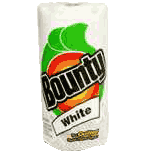 Price: $.50 to $2.50 a roll
My god, I love having paper towels around. No matter how big a mess you make, if you have enough paper towels around, you will be OK. If you can afford it, I also recommend keeping some wet-naps around.
Cons: May be addictive. Quality of paper towels is directly related to cost.
Nintendo Wavebird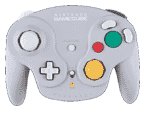 Price: $29.99 at Wal-Mart, $34.99 most other places.
Let me start off by saying that you should never buy third-party controllers for any system. The buttons are often unresponsive, with either too little, or too much play. They often fell like shit when you are holding them. They are getting better all the time, but even when a generic gamepad gets everything else right, it will always fall apart in one key area: THE ANOLOGUE STICKS. generic analogue sticks are ALWAYS TOO LOOSE. You will never get the proper precision, ever. When you have friends over to play, your friends will always argue over who gets stuck with the weird controller. No one wants to be stuck with a third party controller when they are competing with players using the official pad. If you need to save five dollars that bad, well, fuck you. Any how, the wavebird is the first official wireless pad. It feels exactly the same as the normal gamepad controller, (well, maybe a couple grams heavier), but it works on the same technology as cordless phones, so it responds as well as a normal pad within 50+ feet of the gamecube, even when there are brick walls in the way. 2 AA batteries last about 100 hours. I recommend getting some 1800 MAh nickel metal hydride rechargeable batteries (about $10 at Best Buy or Radio Shack). You can run up to 16 Wavebirds in one place with no interference.
Cons: No rumble feature. Available in only gray and platinum (dull silver).
Gameboy Advance SP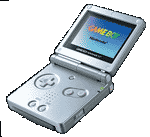 Price: $99.99
When the Gameboy Advance first came out, it was awesome. It had the 2-D power of a Neo Geo, 80% of the 3-D Power of a PS 1, and more than 12 hours of battery life. Unfortunately, the only way to see the screen was to play in direct sunlight (it burns, it burns), or sitting in a bright bathroom (it beats reading shampoo bottles). A little more year latter, Nintendo released the Gameboy Advance SP. Wow, what a difference. The screen is essentially the same as the old one, but it come with a built-in front light that allows you to play it in any light. It also comes with a built in battery (12 hours with the light, 20 with it switched off), and a well-designed AC Adapter that allows you to play while recharging (It takes about 2 hours to fully recharge). The SP folds up like a laptop Pc when not in use, making it smaller and also protecting the screen from scratching. I cannot emphasize enough how cleverly designed this thing is. A regular old Gameboy Advance goes for 79.99 now, skip that and save the extra $20 to get an SP instead. You will save that in batteries in your first year. Note: Thanks Brittany!
Cons: need a $5 adapter to make use of headphones <!!!!---------------- end of main text----------------------------------------->